As you've probably noticed, we recently rolled out a new website design for the Boys to Men Mentoring Network.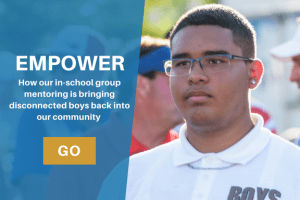 The BTM Redesign Overview; You Spoke, We Listened
We based the content and design of the BTM site on suggestions from users who regularly log onto our site.
Heavy on engaging videos and photos from BTM events, the redesign was a complete overhaul to dramatically improve the user experience.
An easy-to-navigate menu at the top of each page serves as the quick link hub for all things about BTM, including:
BTM mission, history, leadership, and impact
Direct links to BTM social media accounts on various platforms Details on the different BTM program offerings, including its weekly in-school and open community meetings, Adventure Mountain Weekend Retreats, and the annual 24-hour experiential mentor training
Upcoming BTM events
A regularly updated blog section
Easy access to ways you can get involved with BTM.
Optimized for Speed
Because a slow-loading site often results in visitors hitting the "back" button, the web design professionals with Boise-based Caldiatech rebuilt the BTM site using Generate Press with Elementor.
The design program is the leading-edge solution for load speed – especially for mobile devices.
About Boys to Men Mentoring Network: The number of boys growing up without fathers in their lives has reached epidemic proportions. High rates of divorce and out-of-wedlock births have created a generation of fatherless boys. Boys to Men Mentoring Network offers guidance, direction and hope to disconnected, often broken young lives. Drawing inspiration and direction from the surfing community, the nonprofit is driven by a simple yet powerful idea: In Our Lineup, Every Boy Is Family.